MyDuneVideo Beta is here...
What is MyDuneVideo ?

It's one indexer and skinner for Dune owners

What you need to know:
It's one beta version, you can have some bugs or CRASHS

Help the community, so you
And I, already, said before, your better helper is you
This software, and other, are based on http://www.themoviedb.org and http://thetvdb.com , so if you have some errors, you can fix it.
How, because I'm directly concerned ?
Subscribe of they web site and, you can verify or completed, with the good informations for your favorites films, series or actors.
So, at yours keyboards

NB: All of this web sites are free, so don't hesitate to be the best member of all of us. Put your mind in the community.

Export:
- The export can be very long, because, I WANT a maximum of informations about Actors and Staff... ( Date of born, die (If this is the case ), numbers of films in actor or staff, etc...)

- At second export, it's will be faster for olds informations

Templates:
- The Origninal Template, is made by me, and I'm not one designer.
And some screens can displease at someone...

The XML file is very complex, but it's only for have all the possibilties of design ( position, rotation, mirror, frame and mask, and maybe more )
I know that one personal template is is sought by all... Question: Maybe, but I can't change it, so...

-If you change the Templates, test it with only one or two films/series

Languages:
- All messages (exept English) are translated by Google, I choosed this option because, I want that MyDuneVideo will be accessible to as many people.

So you can change the translation, by edit XML files, in the Languages folder (in your personal folder under MyDuneVideo / Languages )

I'm french, and sometime, english can be rubbish for me too
You can edit for the English Language too... (same way) YES...

NB: All dictionaries will be not deleted at the next install


Here some screenshots on Dune device.
- At the end of this page you will find more screenshots from computer ( Sorry for the Apple guys, this software is only for Windows )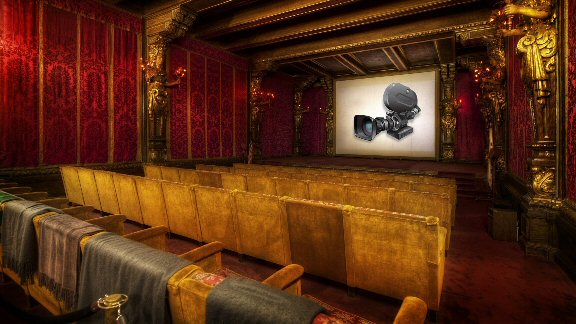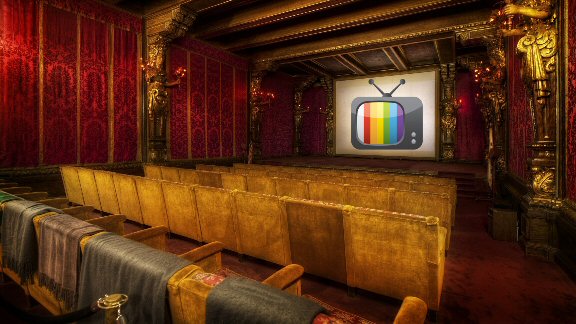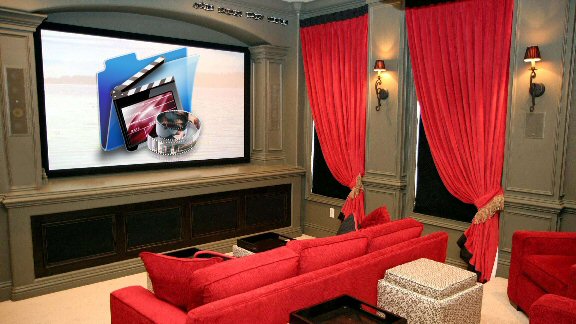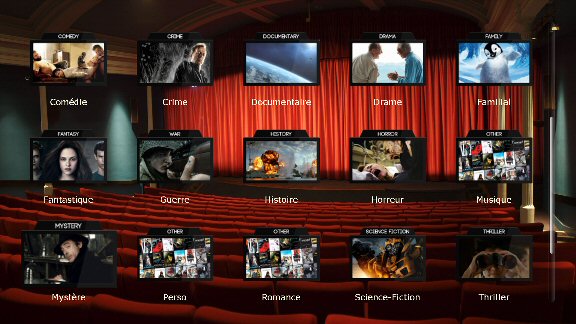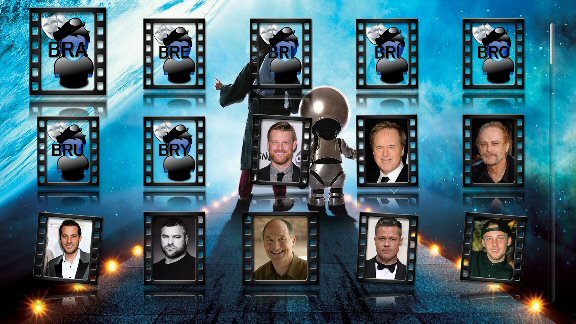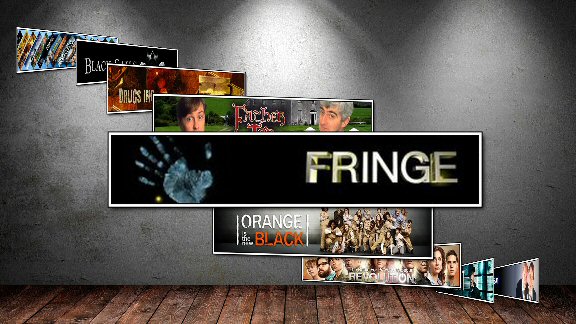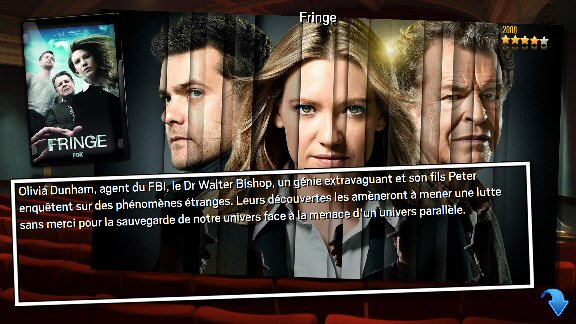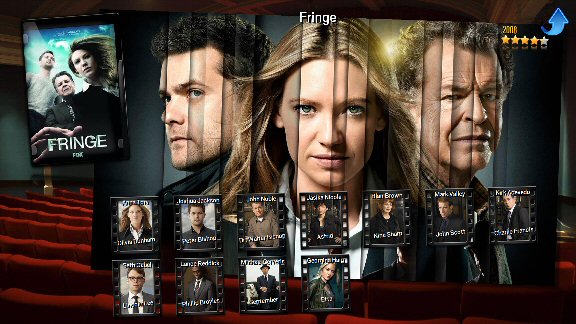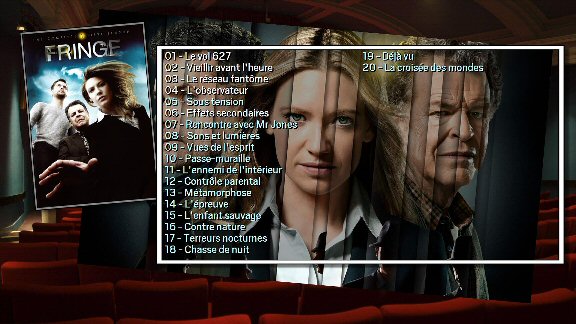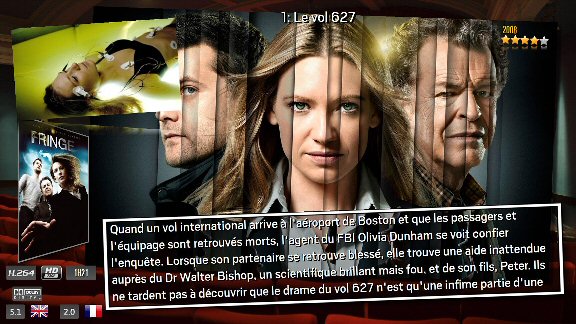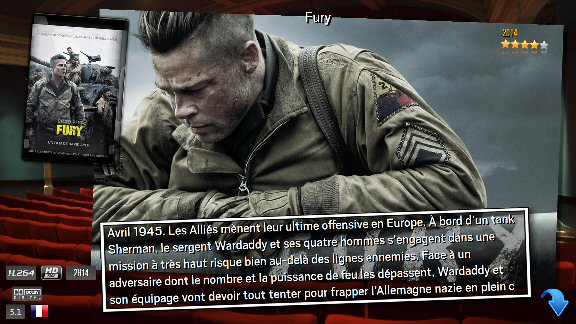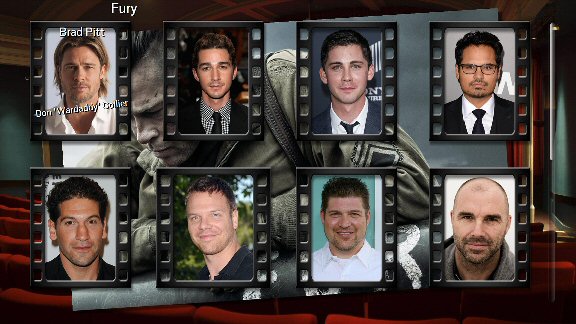 ---
That's new in V0.11.32.7 ?
- Correct crashs, in particular when you install MDV for the first time...
- Now you can copy your unseen videos on one external device, like USB Key, to be see during yours travels. :-) (see in config / travels)
- VLC play 3D videos in 2D (inside MDV)
---
That's new in V0.11.30.6 ?
- Videos can be played inside MyDuneVideo ( If VLC is installed on your computer )

---
- Correct bug with Windows 10

---
That's new in V0.11.30.1 ?
- Add filter to find video between last scan and last export
- You can modify duration of Overview for the option "Play Episodes Following" in config.xml
- Correct some bug in change of image of persons and in episodes who missing banners

---
That's new in V0.11.28 ?
- Now you can modify picture for one Person. ( I will add and change for export )
- Now is possible, (beta test) if you activate the option "Play Episodes Following" to see overview, for 5 seconds, before play one episode. ( Carrefull, it's only for new episode, or second export (Will be full avaible in the final version... :-) )

---
That's new in V0.11.24 ?
- The 'Play Episodes Following option' is now good (When the number of episode in one season is more than 10, bloody sort :-( )
- Some modifications for the Translator Microsoft Translator...
- Translator is now in cache on one other server...
- If translator bug ( Thanks Bill G ;-) ), at the next time you will run MDV, Normaly you will have one translation in your language...

---
That's new in V0.11.23 ?
- Some bugs corrected
- Translator changed, use now, Microsoft Translator...

---
That's new in V0.11.19 ?
- Correct one little bug for export persons

---
That's new in V0.11.18 ?
- Have the last infomations about an episode, during one new scan or by right clic on one episode
- Optimize translate request to don't be black listed from Google translate

---
That's new in V0.11.17 ?
- In Seasons for series, correct proportions for banners imported from disk ( Wide or Poster )
- Add in the menu, one animated shortcut, for support, for me and this software, with donations... :-)

---
That's new in V0.11.16 ?
- Remove one bug, who crash "MDV". It's when one name is not compatible with system file :-)
- More informations, that you can do, in label status, on the bottom of the screen.

---
That's new in V0.11.14 ?
- This new version informe you that you can do with label status in the bottom of the screen
- For unwatched films will sort by the last inserted :-)

---
That's new in V0.11.12 ?
- Now you can change or delete the Youtube link for Trailer of the movie.
To do, Right clic, on the Youtube link.

---
And when, the next version coming ?

Hi Hi, next time, but if you want have more soon, you can help me to find more time...
Because, You know, Time is Money, and if you give some money, I will have more time for MDV ;-)
So here, you can do something for that...

And, who know, maybe MDV will have functions for only donators, so be the first :-)

If you make donation, your name, only if you want, will be on this page...

---
Here some screenshots from Computer ( Windows only, Apple guys, I'm sorry, but you must find an other way :-( ).